Become a meditation teacher
Turn your passion for meditation into a meaningful business and help to share the powerful benefits of meditation with your community.
As a Samavira Ambassador, we will support you as you build and grow a sustainable meditation business so that you can do what you love while contributing to your community and having an impact on the world.
watch the information session
The Samavira Ambassador Program is a combination of the Samavira Meditation teacher training, and a business partnership under the Samavira brand. 
MEDITATION TECHNIQUE
Learn the science of meditation and practice the unique Samavira Method inspired by ancient tradition.
TEACHER CERTIFICATION
Become comfortable to teach meditation to all student skill levels and hold space for groups.
BUSINESS PARTNERSHIP
Receive the rights to use the Samavira brand and assets and become one of our global ambassadors.
TOOLS TO GROW YOUR BUSINESS
Get access to content, business resources and on-going business development support.
We are the only organization in the world that not only certifies you to become a meditation teacher, but also offers a business relationship. This way, you can focus on hosting trainings and teaching students instead of navigating the murky waters of entrepreneurship.
THIS IS PERFECT FOR YOU IF:
"I highly recommend this training for anyone who wants to feel confident while meditating and teaching meditation!" 
Rogéria Schmidt
The Samavira Ambassador program is a 12-week online meditation certification training that teaches you the Samavira Method, how to develop your own personal teaching style, and how to build and grow your meaningful meditation business.
As a Samavira Ambassador, we will continue to support you to deepen your own meditation practice and become increasingly immersed in your new identity as a meditation teacher.
Learn the Samavira Meditation method first-hand with 8 weeks of 2-hour live group meditation training sessions. This method teaches you how to create a personalized, independent, and deeper meditation practice.
*If you have already completed the Samavira Meditation training, you can join us for the Ambassador program for a reduced price
Learn the science and history of meditation



Build the confidence and skills to teach others the

art and science of me

ditation

Develop your personal teaching style


Learn how to build and grow your meditation business with our step-by-step frameworks



1 full-time day per week for 4 weeks
We want to continue to support you after you have been certified, so as a Samavira Global Ambassador, you will continue to have access to:
The Samavira Ambassador Live Training Days
The second part of the training is spread over 4 weeks during which we will spend 1 full-time day per week together online. In between the live training days, there will be space to review the training materials, deepen your own meditation practice and become more and more immersed in your new identity as a meditation teacher.
As we move through the program, there will be required weekly homework, suggested reading, coaching and support.
Join the Samavira Meditation Training as a student. Learn the method and experience the training as a student.
This training takes place online, every Sunday 8pm – 10pm CET.
Click here to find out more about this section of the training, which is included in the program price.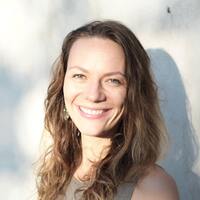 Lauren Schuivens
Meditation & Mindfulness Trainer
Lauren is the founder of Samavira and a certified meditation & mindfulness instructor. She has been trained by Buddhist Monks in Thailand to deepen her skills and knowledge about meditation and mindfulness to overcome her early life traumas, reclaim her power and heal from the past. She has worked with some of the biggest personal growth authors in the world during her career at Mindvalley, and has facilitated events, workshops, trainings and courses for hundreds of people worldwide.
Corin Goodman
Marketing Expert
Corin is a marketing strategist and paid advertising specialist with 10+ years of experience helping purpose-driven businesses to launch and grow. She is passionate about meditation, yoga, and all things holistic health and wellness. Her drive to share meditation and encourage more meditation across the world is what led her to Samavira. Corin brings a mix of business experience, growth strategy, and marketing expertise paired with a mindful and collaborative approach to supporting our Samavira Ambassadors.
What our certified ambassadors say
I have never had such a deep & profound meditation practice and training. I highly appreciate the teacher training process which includes resources, data, marketing, communication & lifelong support. This teacher training is one of its kind with expert instructors.
My most favorite part of the training was how all teachers actively took part by asking each other questions, as if they were also a meditation student in the training. Overall, I loved how deep the training went. I was able to understand deeply why I meditate and how to go even deeper. I recommend this training to anyone who is looking for a detailed meditation program, whether you want to become a teacher or take your own meditation practice to the next level.
What I liked the most is that the business part during the training helped me to identify some mistakes I made and gain new good tools and strategies to build and maintain my community by making them interested in what I'm doing. I also deepened my meditation experiences through regular practices during the training. I really liked the group facilitation technique and the atmosphere in which the training took place. What I liked most was that we not only talked about meditation and mindfulness, but also about business.
Amour Dieu-Donné Vodounhessi
This training just happened at the right time in my life and it was exactly what I needed to deepen my self-awareness and strengthen my connection with my own intuition. The presentation of all the complementary material happening right before the meditation session in every meeting was perfect for a better meditation practice itself. My favorite aspect of the Samavira experience was knowing when and where we were could tweak tools and use the ones we felt aligned with. Highly recommended training for anyone who wants to feel confident while meditating and teaching meditation.
THE SAMAVIRA meditation teacher training
Our next training will take place in 2023. Join the waitlist to be the first to know when we open enrollment.
8 x Live Meditation Training Sessions
We'll start on Sunday September 25th. Sessions take place from 8-10pm CET, weekly for 8 Sundays.
4 x Live Ambassador Training Days
We'll start on Sunday November 20th. Sessions take place full-day from 10am-6pm CET, weekly for 4 Sundays.
Doors close on September 21st.
We keep our groups intimate as we adopt a personalized approach, which means spots for this training are limited.
Sign up for our newsletter to receive free resources, meditation tips and tricks, and early access to our events.
By submitting your email, you agree to receive communications from Samavira. Our privacy policy can be found here.